When:
September 19, 2013 – September 22, 2013
all-day
2013-09-19T21:00:00+00:00
2013-09-22T21:00:00+00:00
Cost:
3-day pass: 50€ (limited 500 tickets), 1-day ticket 20/09: 15€, 1-day ticket 21/09: Presale 25€, Door 30€, 1-day ticket 22/09: 20€ (limited 100 tickets)
Reworks 2013 International Music Festival | 20-22.09.13
With great pleasure we welcome you to Reworks, the audio – visual Festival of Thessaloniki that wishes to present the most modern artistic waves, from all over the world, to Greece. With its ninth edition, Reworks 2013, aims to present the broad range of contemporary music and more. It presents, for the first time in front of the public, new musical and artistic trends through various works and showcases, while in parallel to that it presents the exclusive works of native artists and especially designed projects. Musical waves, concert and live performances, visual art presentations, workshops and a free street stage will be housed within 3 days. On day 1 Friday September 20th the festival will present workshops and a street stage presenting domestic acts openly to the public as an answer to the economic crisis which strikes Greece, while for the first time in the night it introduces Desolat whom will present a label showcase. On Saturday 21st of September Reworks return to its place of birth the MYLOS complex with acts from all over the world promising to preserve your interest undiminished from the time that the doors open to the very first sun beam the morning after.
On last day as always Reworks will wave a smiley goodbye to you with a special rooftop event at the MET Hotel hosting Resident Advisor with a special line up on board .
For another year, Reworks will become a collection of sounds and ideas, a meeting point of resonant voices, a window to tomorrow. From the electronic sound and disco aesthetics to funk, soul & jazz and from the performances of established artists to the first performances of new and developing creators, it will try to visualize the need for a cohesive motif of entertainment.
We wish you all to enjoy what you are about to see and hear and to let yourselves be drifted with the currents of music to the journey named "Reworks 2013".
Line up
Paul Kalkbrenner (PK Recs, DE)
Richard Dorfmeister & Rupert Huber presents Tosca (G-Stone, AU)
Josh Wink (Ovum, US)
Maceo Plex (Elum, US)
Nina Kraviz (Rekids, RU)
Jupiter Jazz (Ellum, US)
Danny Daze (Ellum, US)
tINI (Desolat, DE)
Robert Dietz (Desolat, DE)
Eats Everything (Pets, UK)
Bicep (Feel My Bicep, UK)
John Talabot (Permanent Vacation, ES)
Ison/ Actor One (Noir Music, GR)
9west (Dessous, GR)
Stassy (Watergate, GR)
Plastic Flowers (Manic Pop, GR)
Cruz (Deep Elecric, GR)
Viton (Playground, GR)
DreaMachinery (Republic, GR)
Darktom & George Adi (NON, GR)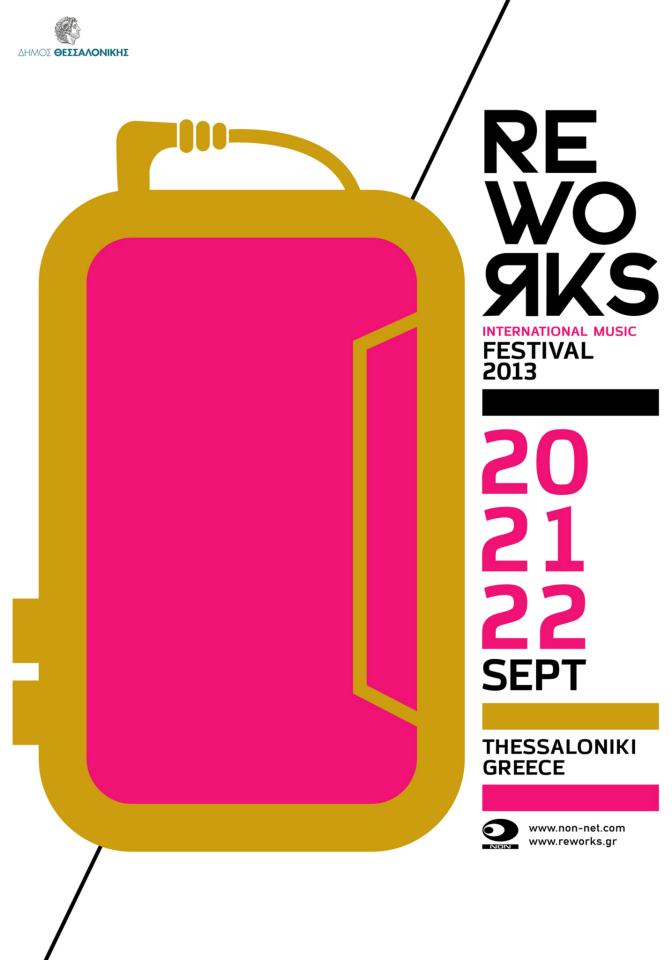 More info:
facebook.com/reworksfestivalofficial
Tickets Presale:
Stereodisc | 4 Aristotelous Sq, +30 2310 262912
Lotus Record Store | 7 Skra, +30 2310 260776
Public | Tsimiski 24 , +30 2310 227288
Joint | Ag. Sofias 1, +30 2310 277760
Play Ground | Ioannou Delliou 4, +30 2310 279402
Underground | Navarinou Square
SEE FULL PROGRAMME HERE