Thessaloniki in the new year's 20 must-see places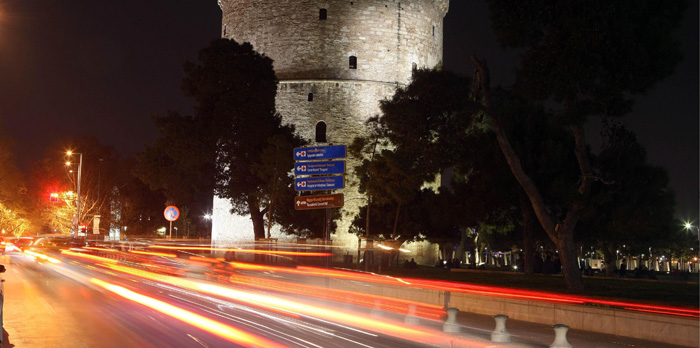 It was Lonely Planet that firstly included Thessaloniki in the Top 10 Ultimate party cities. Now, National Geographic suggests Thessaloniki as one of the new year's 20 must-see places.
Thessaloniki has received one more testimonial reference from a huge institution like National Geographic. The National Geographic Traveler editors has included Thessaloniki in the 20 must-see places for 2013. Read the full article below…
A bolt of Greece lightning
Thessaloniki's sparkling harbor is almost empty—a good thing. It remains one of the last urban seafronts in southern Europe not hemmed in by a giant marina. Instead, wooden caïques still ply the quiet bay while footpaths trace the meandering waterfront of Greece's second largest city, some 320 miles north—and a world away—from chaotic Athens.
Although the euro crisis has caused ripples of discontentment here, it's the century-old street markets filled with ripe fruits and barrels of fresh feta that symbolize this city. Tucked between relics of Byzantine and Ottoman antiquity are art galleries, bohemian nightclubs, and culinary hot spots, all part of a grassroots vision turned reality by Thessaloniki's large (about 50 percent of the population) do-it-yourself youth culture. "We are driven by our optimism and positive energy for a new way of living that embraces our heritage," says Vicky Papadimitiou, a university graduate who helped Thessaloniki garner official status as the 2014 European Youth Capital.
The best way to get the feel of this mission-driven city is on foot, walking from the ruins of Ano Poli to Aristotelous Square on the waterfront. Then cozy up to a café to nibble grilled calamari washed down with dry Macedonian wine. —Costas Christ
Travel Tips
When to Go: High season is July-August. June and September offer summerlike weather but lighter crowds.
Relevant Dates: International Thessaloniki Film Festival is every November; the annual International Book Fair is in May.
Where to Stay: Walk to museums, cafes, and Aristotelous Square from sleek and serene Daios Luxury Living hotel. Executive Sea View rooms overlook the gulf, the landmark White Tower, and the harbor.
How to Get Around: Blue and white OASTH (Urban Transport Organization of Thessaloniki) buses are a safe, efficient, and affordable option for city and area-wide travel.
Where to Eat or Drink: Try Nea Diagonios for soutzoukakia (spiced meatballs) and gyros, 7 Thalasses (Seven Seas) for mithopilafo (mussels with rice), and Mpakaliarakia tou Aristou for fish and chips. Save room for Thessaloniki's signature sweet, trigona. The syrup-soaked baklava stuffed with cream is handmade at Trigona Elenidis pastry shop.
What to Buy: Shop for exotic spices and sample fresh fruits at traditional markets, including glass-roofed Modiano and the Kapani food market, and in the shops around Athonos Square.
What to Watch Before You Go: Never on Sunday, a 1960 comedy classic in which popular Greek actress turned politician Melina Mercouri introduced international cinema audiences to the natural beauty, bouzouki music, and joy of Greek life.
Fun Fact: In 316 B.C., Macedonian King Kassandros renamed the village of Therma Thessaloniki after his wife, the half sister of Alexander the Great. Legend says the queen (murdered by her middle son) lives on as an Aegean mermaid.
Tags: national geographic